ANALISIS KEBIJAKAN PRE-EMPTIVE SELF DEFENCE GEORGE W. BUSH, JR TERHADAP AFGHANISTAN
Abstract
PESD becomes controversy because its legality under international law
particularly in Article 51 of the UN Charter does not set any explicit reference to this action. The academics differently interpret the contents of the chapter, some academics legalize preemptive and others regard it as an act that violates international law because it do not fulfill two conditions the right of defense permissible. The two conditions are there has been an armed attack and the UN Security Council has taken measures in advance. In addition to Article 51 of the
charter, legitimacy and precedent of preemptive action is also present in customary international law, which this action can be performed under certain conditions if meets two conditions: necessity and proportionality. The findings of this research are preemptive self-defense by the United States against Afghanistan does not violate international law. It is based on the transformation of various forms of threats and no longer just an attack by the armed forces as well as terrorism, so the rigid interpretation of Article 51 of the UN Charter is no longer adequate. In addition, the policy of United States meets the elements of necessity and proportionality, which preemptive action is permissible under customary international law.
Keywords
Keywords: Self defence, Preemptive, International Law, Terrorism
References
DAFTAR PUSTAKA
Hamid, A. Ghafur Hamid (Khin Maung Sein). 2007. The Legality of Anticipatory Self-Defence inThe 21st Century World Order: A Re-Appraisal.Kuala Lumpur: Pearson-Prentice Hall.
Sofaer, Abraham D. 2003."On the Necessity of Pre-emption". Oxford: Oxford University Press journals, 14:2.
Annan, K. 2003. Address to the General Assembly,23 Sept,Press Release SG/SM/8891,
Baier, Bret, Anna Persky, Bin Laden Claims Responsibility for 9/11:diakses pada 07 oktober 2012, dalam www.foxnews.com.
Badey, Thomas J (ed). 2005."Annual Edition:Violence and Terrorism."Dubuque: A Division of The McGraw-Hill Companies.
Brownlie, Ian. 2003.Principles of Public International Law.Oxford: Oxford University,6th ed.
Bush, GW. 20 September 2001. Address to a Joint Session of Congress and the American People. Washington D.C.
Bush GW. 2002.The National Security Strategy of the United States of America. Washington D.C. White House:diakses pada 17 Desember 2011, dalam http://georgewbush-whitehouse.archives.gov/nsc/nss/2002/nss.pdf.
Chomsky, Noam, 2003, Dominance and Its Dilema : The Bush Administration's Imperial Grand Strategy:diakses pada 7 Februari 2013, dalam http://bostonreview.net/BR28.5/chomsky.html.
United Nations. Chapter VII: Action With Respect To Threats To The Peace, Breaches Of The Peace, And Acts Of Aggression: diakses pada18 Desember 2011 dalam http://www.un.org/en/documents/charter/chapter7.shtml.
Singh, Daljit (ed.). 2009."Terrorism in South and South Asia in ComingDecade".Singapore: ISEAS Publishing.
Davies, Nicolas J. S. 2009.The Caroline Case and American Drone Strikes in Pakistan: Peace Review,21: 4
"Departemen Perdagangan AS Kini Sedang Meninjau Ulang Doktrin Preemptive MilitaryStrikes", diakses pada 06 agustus 2012, dalam www.suaramedia.com
Eka An Aqimuddin,2009, Doktrin Intervensi Kemanusiaan Dalam Hukum Internasional, diakses pada 18 Desember 2011, dalam http://senandikahukum.wordpress.com/2009/01/13/doktrin-intervensikemanusiaan-dalam-hukum-internasional.
Dixon M,2005,Textbook on International Law,Oxford, Oxford University Press,5th ed.
Gathii JT, 2005, Assessing claims of a new doctrine of pre-emptive war under the doctrine of sources, Osgoode Hall Law J, vol 4th
Glennon, Michael, 2002, " Preempting Terrorism: The Case for Anticipatory Self Defense", weekly standard, 24:27
Graduation Speech at West Point, dalam www.whitehouse.gov/news/releases/2002/06/20020601-3.html, NationalSecurity Strategy of the United States of America ("N.S.S.", September 2002), diakses pada 06 Agustus 2012 dalamwww.whitehouse.gov/nsc/nss.pdf.
Gray C, 2004, International Law and the Use of Force, 2nd ed,Oxford, Oxford Univ.Press
Greenwood C. 2003. International law and the pre-emptive use of force: Afghanistan, Al-Qaida, and Iraq, San Diego J. Int. Law 4:7
Grieco, Joseph M,1988, Anarchy and the Limits of Cooperation: A RealistCritique of the Newest Liberal Institutionalism, International Organization, vol 42,no.3
Gunawan, Yordan, 2010, "Pengantar Hukum Internasional", diakses pada 06 agustus 2012, dalam http://telagahati.wordpress.com.
Harris, D.J, 1998,Cases and Materials on International Law, Fifth Edition, Sweet & Maxwell, London
Hart, Michael H, Seratus Tokoh yang Paling Berpengaruh dalam Sejarah,, diakses pada 18 Desember 2011, dalam
http://luk.staff.ugm.ac.id/kmi/iptek/100/Machiavelli.html.
Jennings R,Watts A, eds,2002, Oppenheim's International Law, London, Longman,
th ed.Kaczorowska, Alina, 2012, Public International Law, Routledge
Krasner, Stephen D, 1999, Sovereignty: Organised Hypocrisy, Princeton,Princeton UniversityPress
Kirsten Schmalenbach, 2002, "The Right of Self-defence and "The War on Terrorism" One Year After September," German Law Journal, diakses pada 06 agustus 2012, dalam http://www.germanlawjournal.com/article.php?id=189
Kusumaatmadja, Mochtar, 2003, Pengantar Hukum Internasional, Bandung : PT.
Alumni, edisi kedua
Lee A. Casey & David B. Rivkin, Jr., 2001, "Anticipatory" Self-Defense Against
Terrorism isLegal, diakses pada 18 Desember 2011, dalam
http://www.wlf.org/upload/casey.pdf
Mauna, Boer, 2005, Hukum Internasional, Pengertian Peranan Dan Fungsi Dalam
Era Dinamika Global, Bandung, Alumni, edisi kedua
Medzmariashvili, Megi, 2011, "Pre‐emptive self‐defence against states harbouring
terrorists"
Murdoch,Stephen,2003,Preemptive war:Is it Legal?, diakses pada 18 Desember
, dalam http://www.dcbar.org/for_lawyer/washington_lawyer.
Murswiek, Dietrich, 2003, The American Strategy of Preemptive War and
International Law
Negroponte, John D, 2001, Letter dated 7 October 2001 from the Permanent
Representativeof the United States of America to the United Nations addressedto
the President of the Security Council, dalam www.hamamoto.law.kyoto-u.ac.jp,
diakses pada 15 agustus 2012
O'Connell,Mary Ellen,2002, The Myth of Preemptive Self Defence, The American
Society of International Law Task Force on Terrorism,diakses pada 18 Desember
dalam http://www.asil.org.
Phartiana, Wayan, 1990, "Pengantar Hukum Internasional", Bandung, Mandar
Maju
Quigley, 'In What Sense was There an "Armed Attack?", EJIL Discussion Forum,
'The Attack on World Trade Centre: Legal Responses', diakses pada 11
september 2012, dalam www.ejil.org/forum_WTC/ny-gaja.html
Responsibility of State for Internationally Wrongful Act 2001, diakses pada 18
Oktober 2012
Rivkin, David B, Jr;Casey, Lee A;DeLaquil, Mark Wendell, 2005, Preemption and
Law in the Twenty-First Century, Chicago Journal of International Law; 5: 2
Salim,Agus, 2006,Teori & Paradigma Penelitian Sosial, Yogyakarta, Tiara Wacana.
Shadily, Hassan dan Echols,M,John, 1975, Kamus Inggris-Indonesia, Jakarta,
Gramedia Pustaka Utama
Smitherman III, 2003, The Doctrin of Preemption and The Use Of Force Under
International Law, diakses pada 18 Desember 2011, dalam
http://hull.ac.uk/law/doc.smitherman.doc
Starke, J.G, 1995, Pengantar Hukum Internasional, Jakarta, Sinar Grafika, edisi
kesepuluh
T. McCormack, 1991, "Anticipatory Self-Defence in the Legislative History of the
United Nations History", Israel Law Review, 25:1
Thomas,M Franck, 2002, Iraq and the 'Bush Doctrine' of Pre-Emptive Self-Defence,
diakses pada 18 Desember 2011, dalam
www.crimesofwar.org/expert/bushdoctrinepreemptive.htm.
Thontowi, Jawahir dan Iskandar, Pranoto, 2006, Hukum Internasional
Kontemporer, Refika Aditama
Ulfstein, Geir, 2004, Terrorism and The Use Of Force, "The New Era of Terrorism
Selected Readings, Sage Publication, Gus Martin (ed), Inc, USA, pp.236.
Yoo, John, 2003, International law and the war in Iraq, The American Journal of
International Law, 97, 3, ProQuest Research Library
Refbacks
There are currently no refbacks.
This work is licensed under a
Creative Commons Attribution-NonCommercial-ShareAlike 4.0 International License
.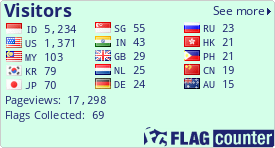 View Stats
________________________________________________________
WANUA : Jurnal Hubungan Internasional
Hubungan Internasional, FISIP, Universitas Hasanuddin
Jl. Perintis Kemerdekaan KM.10 Tamalanrea, Makassar 90245
Telp/fax. (0411) 585024 SMS Gateway : +62811444874
Email: jurnalwanua@unhas.ac.id, jurnalwanuahiunhas@gmail.com