American Foreign Policy towards Iraq, Iran and North Korea: American Hegemony and Neo-conservatism against the Axis of Evil
Abstract
Abstract
This article analyzes the United States toward "axis of evil" countries, namely Iraq, Iran and North Korea. Since September 11, 2001, according to George Walker Bush, these countries are sponsor of terror that threat America or friend's and allies' of America with weapons of mass destruction.
Keywords
Keywords: United States of America, Foreign Policy, Axis of Evil.
References
References
Book
Bellamy, Alex J., Roland Bleiker, Sara E.Davies and Richard Devetak, 2008, Security and The War on Terror, Routledge Taylor & Francis Group, New York.
Goldstein, Joshua S., and Jon C.Pevehouse, 2008, International Relations, Pearson Longman, New York.
Huntington, Samuel P, 2008, Siapa Kita: Gabaran Kepada Identiti Nasional Amerika; Terjemahan :Who Are We? The Decline and Renewal of American Identity, Institut Terjemahan Negara Malaysia Berhad, Kuala Lumpur.
Janda,Kenneth, Jeffrey M.Berry and Jerry Goldman, 2000, The Challange of Democracy, Houghton Mifflin Company, New York.
Madaras, Larry, 2008, Taking Sides: Clashing Views in United States History Since 1945, McGraw-Hill Higher Education, New York.
O'Connor, Karen and Larry J.Sabato, 2004, American Government: Continuity and Change, Pearson Longman, New York.
Pauly JR,Robert J.,2005,US Foreign Policy and The Persian Gulf, Ashgate Publishing, USA.
Pauly,JR.,Robert J. and Tom Lansford, 2005, Strategic Pre-emption:US Foreign Policy and the Second Iraq War, Ashgate Publishing, USA.
Renshon, Stanley A. and Peter Suedfeld, 2007, Understanding The Bush Doctrine, Routledge Taylor & Francis Group, New York.
Roskin, Michael G. and James J.Coyle, 2008, Politics of The Middle East: Culture and Conflict, Pearson Prentice Hall, New Jersey.
Sarkesian, Sam C. and Robert E.Connor Jr.,2006, The US Military Profession Into The Twenty-First Century:War Peace and Politics, Roudledge, New York.
Journal
Journal Of International Studies Perspectives, Adam Quinn, The Deal: The Balance of Power, Military Strength and Liberal Internationalism in the Bush National Security Strategy, Blackwell Publishing, New York,Volume 9, February 2008.
Journal Foreign Policy Analysis, Davies M.,Graeme A., Insede Out or Outside In: Domestic and International Factors Affecting Iranian Foreign Policy Toward the United States 1990-2004, Blackwell, United States, Volume 4, July 2008
Journal of East Asian Studies, Jacques E.C.Hymans, Assessing North Korean Nuclear Intentions and Capacities: A New Approach,Lynne Rienner, California, Volume 8, Number 2, May-August 2008.
Refbacks
There are currently no refbacks.
This work is licensed under a
Creative Commons Attribution-NonCommercial-ShareAlike 4.0 International License
.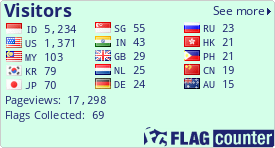 View Stats
________________________________________________________
WANUA : Jurnal Hubungan Internasional
Hubungan Internasional, FISIP, Universitas Hasanuddin
Jl. Perintis Kemerdekaan KM.10 Tamalanrea, Makassar 90245
Telp/fax. (0411) 585024 SMS Gateway : +62811444874
Email: jurnalwanua@unhas.ac.id, jurnalwanuahiunhas@gmail.com