Peran Sulawesi Selatan dalam Strategi Lumbung Pangan BIMP-EAGA (BIMP-EAGA Food Basket Strategy)
Abstract
Abstract
As a province member in sub-regional BIMP-EAGA cooperation that also become as a centre of agriculture production in East Indonesia, South Sulawesi is trying to make serious efforts to contribute in ASEAN Food Basket Program. In this research explained that South Sulawesi government implementing a program called Program Lumbung Pangan Masyarakat (people food basket program) as response to Food Basket Strategy that agreed in frame of BIMP-EAGA cooperation. This also indicate that sub-national actor, in this case is province, has important contribution to build cooperation in regional scheme of cooperation.
Keywords
Key words: BIMP-EAGA, ASEAN, Food Basket Strategy, South Sulawesi, Sub-national cooperation
References
Asia: The Role of ASEAN, http://www.iisd.org/tkn/pdf/regional_food_trade_asean_brief.pdf
Baviera, Mara dan Walden Bello, Food Wars, http://monthlyreview.org/2009/07/01/food-wars.
BIMP-EAGA Implementation Blue Print 2012-2016, Diunduh dari http://www.bimp-eaga.org/Pages/List.aspx?collid=14
Chandra, Alexander C. & Lucky A. Lontoh, Regional Food Security and Trade Policy in Southeast
Hira Jhamtani. 2008. Lumbung Pangan: Menata Ulang Kebijakan Pangan. INSISTpress: Yogyakarta
John Madeley. 2005. Loba, Keranjingan Berdagang: Kaum Miskin Tumbal Perdagangan Bebas (terjemahan). Cindelaras Pustaka Rakyat Cerdas.
Khudori. 2005. Lapar: Negeri Salah Urus!. Resist Book: Yogyakarta
Manalsuren, Nergui, 2008. "Food Crisis Rippling Out, Like A "Tsunami", Inter Press Service, http://countercurrents.org/manalsuren210508.htm
Maxwell S. dan Frankenberger T. 1992. Household Food Security Concepts, Indicators, and Measurements. UNICEF and IFAD: New York, USA
Maxwell S. dan Slater R. 2003. Food Policy Old and New. Development Policy Review. Vol. 21(5-6), hlm. 531-553
Nouval F, Zacky., dkk. 2010. Petaka Politik Pangan Indonesia: Konfigurasi Kebijakan Pangan yang Tak Memihak Rakyat. Intrans Publishing: Malang
Pedoman Pengembangan Lumbung Pangan Masyarakat 2014
Winarno, Budi. 2010. Melawan Gurita Neoliberalisme. Penerbit Erlangga: Indonesia
Refbacks
There are currently no refbacks.
This work is licensed under a
Creative Commons Attribution-NonCommercial-ShareAlike 4.0 International License
.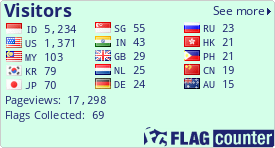 View Stats
________________________________________________________
WANUA : Jurnal Hubungan Internasional
Hubungan Internasional, FISIP, Universitas Hasanuddin
Jl. Perintis Kemerdekaan KM.10 Tamalanrea, Makassar 90245
Telp/fax. (0411) 585024 SMS Gateway : +62811444874
Email: jurnalwanua@unhas.ac.id, jurnalwanuahiunhas@gmail.com